GONE, BUT NOT FORGOTTEN

Richard Partee
12/17/01

Partee, Richard L., "Dick" Age 66, of Jackson, Passed away Dec. 17, 2001 at W.A.Foote Memorial Hospital. He was born April 12, 1935, the son of John W and Ethel Partee. He was a veteran of the Korean Conflict and worked for the city of Jackson for 22 years.
Survivors include one daughter, one son, two grandchildren, and one great-grandson.
Mr. Partee was also survived by a sister, several nieces and nephews, and two bestest friends, Brenton and Betty.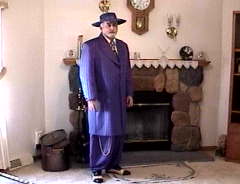 We know that Dick loved to dance. Two of his favorite places to dance were The Roseland and Club Ludwig. Our Jan frequented Club Ludwig, but cannot recall dancing with Dick. Coincidentally, Jan and Dick lived in the same school district in Jackson and had kids in the same schools.
Fate didn't bring them together until Dick discovered our newsgroup. They exchanged emails, talked on the phone constantly while Jan was in Jackson last summer. They finally met for lunch at Cherry's Cafe. According to Jan, it was a wonderful meeting full of laughs and reminiscences. They talked about their kids, the places they used to hang out, especially Louds, aka, the Parlor, which has since closed.
It was no secret that Jan and Dick had a mutual admiration society. It showed in their posts in MiNg.
Jan hopes to go back to Cherry's the next time she is in Jackson.... for closure.
Jan also noted that Dick seemed to know people wherever he went. She mentioned he liked to dress up in what folks referred to as "Pimps Clothes," and he talked about collecting zoot suits and practicing photography as other hobbies. She also shared Dick's thoughts on having his leg removed. He chose not to have the surgery and ended his final days dancing....his passion... his life.
Jan told me she had hoped Dick would be able to attend their class reunion so they could share a dance. But this was the one time they did not have a dance floor, so Jan's wish wouldn't have come true. Knowing Dick, he's waiting for her...And that dance.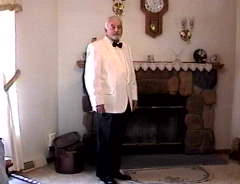 DICK, who we shamelessly teased about his name, until he changed it to cyberdic, and finally Richard, came to us about a year ago. I think at the time he was already in the illness that took his life. But that didn't stop him from being the dirty old man of MiNg, nor did it stop him from looking at a pretty girl. :-)
I think the highlight of his stay with us was meeting Jan, our Imp. He used to post the sweetest posts to her. What a charmer he was. Dick loved to dance, showed us his zoot suit photos, and even when he was feeling ill, he would make an attempt to keep us posted on the Jeff Daniel's movie, "Super Sucker." I understand that, even towards the end, Dick was teaching a young lady how to dance. True to his image to the end. Godspeed, Dick. We miss you.
~JJM~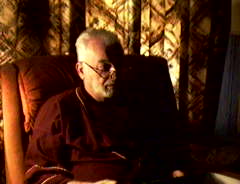 Richard Partee Memorial page by Judy